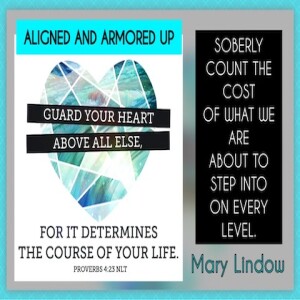 Monday Nov 21, 2022
"Aligned and Armored Up" - Real Relationships Are Costly - A Prophetic Word
By Mary Lindow
THE SPIRIT OF THE LORD IS SAYING...
"Be very careful whom you share your treasures with. How many pearls have you cast before piggish users in the past, only to have them ground to powder?
The servant Paul the apostle was more than a new herald in the order of the day. He stirred up old systems and disturbed demonic religious strongholds. You must be ready to "power up" for years of opposition and hoards of religious factions and fractures of truth!
The past years of agony have been hard soldierly-like boot camp. 
Elite forces training.
It will not go away. 
You must simply learn that it is My duty to do the fighting for you.
Just be certain that you are only speaking, ONLY SPEAKING, what I have told you to.
Speak Nothing more and Speak Nothing less."
THIS IS A TIME IN THE KINGDOM 
WHERE WE ALL MUST SOBERLY COUNT THE COST 
OF WHAT WE ARE ABOUT TO STEP INTO ON EVERY LEVEL.
If there is not the peace of the Holy Spirit resting on those whom you are involved with, don't move into anything until the peace comes.
Gatherings and movements can feel real exciting and purposeful, until conflict, control, and competition show up.
The apostolic and prophetic saints in Acts, fasted, ministered to the Lord, and then the Holy Spirit spoke. 
We have all learned many a painful lesson in the past from experiences of over planning, programming, and hurrying to help God out!
To everything there is a season, a time. 
Until you have a full green light, don't move. 
 It will keep you from having to backtrack and...
 …It trains you in humility.
Familiar Friends OR RELATIONSHIPS?
Ask yourself the following question. 
"Are you simply a familiar with people or are you working in relationship with others and those whom you feel are to move into a more Kingdom minded level of Spiritual intimacy with?"
IF YOU SHARE WHAT IS PASSIONATELY BURNING IN YOUR SPIRIT WITH THOSE WHO ONLY "RELATE" ON A CASUAL SPIRITUAL LEVEL THEMSELVES… 
 …YOU WILL BE CONTINUALLY DEVASTATED.
Spiritual intimacy can only be as deep as those who spend the time in spiritually intimate worship, waiting, and self-examining dialog with the Father, and in relating to others of a likeminded heart. 
This is not easy for busy human life!
"If you have any encouragement from being united with Christ, if any comfort from his love, if any fellowship with the Spirit, if any tenderness and compassion, then make my joy complete by being like-minded, having the same love, being one in spirit and purpose. Do nothing out of selfish ambition or vain conceit, but in humility consider others better than yourselves."
Philippians 2: 1-3
A PROPHETIC WORD CONCLUSION:
"Hear Me", Cries the Spirit of Holy Grace and Mercy! 
I desire to move upon, in, and through each of you. 
Not one of you alone can endure the onslaughts of evil by standing aloof and silent.
Nor can the most vocal of gifts among you clearly communicate all that I long to express.
Until each one is willing to step into the Holy place of pure relationship with Me and with one another, waiting, crying out, Yes - even waiting until I come and refresh, then the generation waiting in the wings will not fully come forward.
Until it is branded into your spirits that this era in time is for the saving of the lost, the redeeming of the wasted, and the release of My power, of My glory, you will be so very very frustrated by the heaviness that doggedly harasses your soul.
What I ordain, I cover. What I command, I give direction to.
Be certain that you have heard what I am saying.
I am fully aware of the weariness and fatigue you have been experiencing.
Heavier than anything you can recall from the past.
"Do not be surprised at the painful trial you are suffering, as though something strange were happening to you!" 
 1 Peter 4:12
There are many many others globally who are also still wrestling out of the cocoon in new birth and are suffering also. PRAY FOR THEM!
Hellish warfare will be a normal activity in the days ahead. 
Unless you harness the power of consistent prayer and train yourselves in regular gatherings of passion in prayer and worship together, you will shrink back into serious doubt, anxiety, bitterness and dread, when the trauma of warfare attacks!!
GIVE VOICE TO MY SPIRIT! 
Awaken your mute tongue and give voice to My name, My power and My Kingdom Solutions! No weapon formed against you will ultimately prosper! 
My Spirit longs to declare wonders, to decree Justice, and to destroy darkness with your lips proclaiming from the spirit.
"So is my word that goes out from my mouth: It will not return to me empty, but will accomplish what I desire and achieve the purpose for which I sent it."  - Isaiah 55:11
Speak out in truth and in praise and I will step into your midst with the peace you have been craving, and groping for. 
Quickly! Enter in before you reflect and exchange ideas. 
After I am given My rightful place of honor and adoration, then I will speak and give you clear vision and direction."
"In the morning, O LORD, you hear my voice; in the morning I will lay my requests before you, 
And wait in expectation."  -Psalm 5:3
My friends, this is a word from the Lord and I encourage you to heed the word of the lord and not immediately go to the assessing and the sanitization of what some would do with a prophetic word from the Lord. He'll show you what parts aren't accurate or what parts aren't fitting for you right now.
But the general overview of this word is that the Lord is calling us to a place of battle, a place of prayer, a place of growth, a place of tenacity, letting go of bitterness where we feel unfairly treated, where we feel like life will never get better.
These are the things that God is saying! If you want to continue to say these things, then you stand in the way of me being the ONE who is the Redeemer of time.
We need to have a challenge to each believer in the Body of Christ, each of you who are servants of the Lord. Every one of you!
Every person listening has an assignment from the Father at this time to tell someone else about the Lord to tell others who are feeling weak and discouraged, angry or bitter, that the need to be understanding that they are called to now grow up into the faith and to not just listen to what other people say, not be inundated with media and false narratives and lies about what Jesus says in His Word.
It is time to stand in the place of trust and ask God to strengthen us in every way, yielding every ounce of our being into His care. 
I bless you today in the mightiest and most powerful and Supreme, dynamic name there is ever to be, and that is the name of Jesus Christ the Messiah. We know that God is Sovereign!
Duplication and sharing of this writing is welcomed, as long as the complete message, website, podcast link and information for Mary Lindow is included.
Thank You!  "2022"
"THE MESSENGER"  - Mary Lindow
If you would be so kind and assist Mary, helping her to meet other administrative needs such as website and podcast costs, or desire to bless her  ministry service with Spirit-led love gifts or regular support:
Please JOYFULLY send your gift in the form of: 
► Personal Checks ► Business Checks
► Money Orders ► Cashiers Checks
To: 
His Beloved Ministries Inc. 
PO Box 1253
Denver, Colorado 80614
USA 
Or feel free to use or send a tax-deductible gift with
Pay Pal   paypal.me/mlindow 
Under the name of - His Beloved Ministries Inc. 
ALL gifts are tax-deductible under
His Beloved Ministries  501(3)c non-profit status.
We are financially accountable and have been in full compliance since
1985 with Clergy Financial Advantage.
THANK YOU!
Comments
(0)
To leave or reply to comments, please download free Podbean or